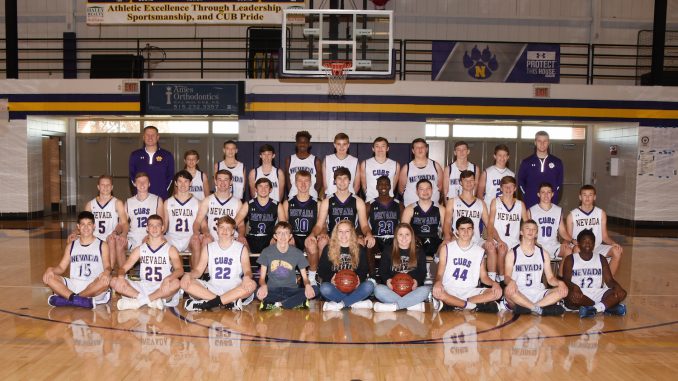 On November 28, the Nevada varsity boys basketball team kicked off their first game of the season against Grand View Christian. The night ended with a loss, final score Nevada 56, Grand View 72.
Chris Hinson, head varsity coach was asked about the game. He said, "I thought our second unit came in and really gave us a lift.  In the 4th quarter they took our 25 point deficit and made it 12 with 4 minutes to go to give us a realistic shot at winning." 
Coach Hinson continued, "I think first games of the year are always tough.  We played a very good team that won state in 1A last year, but we still competed with them for long stretches of the game.  We even outscored them in the 2nd and 4th quarters." The Cubs out scored the Thunder 22 -21 in the second quarter and 14 -8 in the fourth.  
"We need to cut down on our turnovers and play more consistent for four quarters," said Coach Hinson. "It was a game of runs.  They had a really special player hit some really tough shots.  These were back breakers for us because we played good defense, but still ended up giving up points.  After getting down 22-8 in the first quarter, we cut the game to 5 in the second quarter.  We also cut the lead from 25 to 12 in the 4th quarter which was another really good stretch for us."
Article contributed by Omunique Wilkerson.