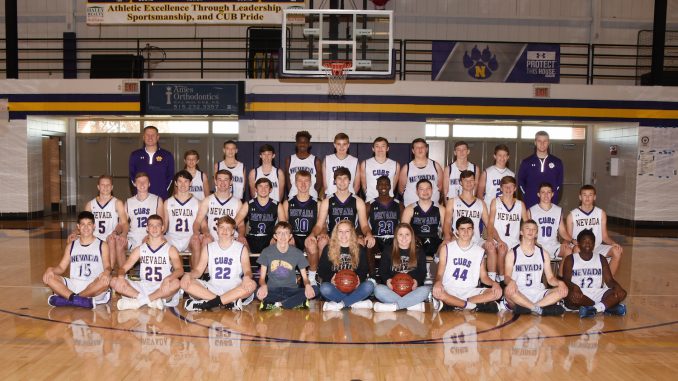 Chris Hinson
Chris Hinson is the head coach of the Nevada Boys Varsity Basketball Team. He played basketball at Nevada from 1993-1997. After high school, he played basketball at Central College from 1997-2001.
Coach Hinson coached at Interstate 35 and had a 21-43 record in three years. He spent one year as the Varsity Assistant Coach at South Tama, before coming back to Nevada High School.
He was the varsity assistant from 2005-2014, and then took over the job as the varsity head coach. In three years as the head coach, Coach Hinson has compiled a 41-27 record.
He says that he came to coach at Nevada because he loves the challenge and basketball has been a big part of his life for a long time. His favorite part about coaching is the players because he loves being around them, teaching them to work hard and to have a good attitude, and trying o get the most out of them as possible.
Greg Baethke
Greg Baethke is the coach for the Nevada JV Basketball Team, and an assistant head coach for the Nevada Cubs Varsity Team. He is entering his 6th year as a Nevada Basketball coach.
Before coming to Nevada, he spent four years in Illinois, then was in Spencer, Iowa, where he taught and coached for 23 years. Coach Baethke then came to Nevada in 2012. He likes to coach basketball because he played a lot of sports in high school, and he enjoys being around kids.
Jon Kruse
Coach Jon Kruse is entering his fourth year as the freshman coach at Nevada High School. He is coming off a 12-6 season from last year.
Coach Kruse played basketball, baseball, track, cross country, and football in high school and coached previously as an assistant high school girls basketball coach at Laurens-Marathon for a year. He then coached here at Nevada as the 7th grade girls basketball coach for one year before becoming the 9th grade boys basketball coach.
His favorite part of coaching is going through the process of the season and seeing how much everyone improves. Some of Coach Kruse's goals for the year are to improve the team's fundamentals and to create a competitiveness not only in games, but in practice, too.
Article contributed by Chase Lycke.